5 ways to help kids cope with feeling overwhelmed at home
This article has been written by parenting blogger and co-author of Create Your Own Happy and Be Happy Be You Becky Goddard-Hill.
By now the novelty of being off school has probably long worn off and your kids (like you) are finding this new way of being a little overwhelming.
You may be desperately trying to keep their education going and finding it all a bit stressful and whilst this matters, their emotional health matters more.
There are lots of things we can do to help our kids maintain a positive attitude and to release their stress.
Let it all out
Before we can help kids feel more positive, we have to help them express and release their feelings of being overwhelmed. There are a few ways to do this:
Journaling is a great way for kids to share their thoughts and feelings. They may want to write about their fears around the coronavirus, or record their frustrations at being stuck with just their family all the time! A journal is safe place to let these feelings out.
Time and space to talk things through with you is also really helpful. Kids need you to be able to listen to their fears rather than you just brushing them aside. Making sure there are opportunities in daily life for uninterrupted time to connect is important. Sometimes the best talks are to be had when colouring together or gardening side by side. 
If your child is reluctant to open up, then share with them that scientists have discovered that negative feelings are reduced when talked over with people you trust.
Exercise - a walk or a run, star jumps in the garden, skipping or an obstacle course can be a great way to dispel pent up emotions and release tension held throughout the body. Research has shown our health habits mirror those of our family, so grown-ups – get your trainers on too!
Maintain friendships
A lot of school life is about friendship for kids and it is important to remember this is a huge loss for them right now. Being with just a small amount of family for a long period really can feel overwhelming.  Helping kids maintain contact with their friends is important.
This is where technology triumphs:  from emails and texts, to skype and zoom calls and playing games online, kids can still connect and have fun times together.
Younger kids may want to do a drawing to post to a friend or with your help create a song playlist to share with them via a link.
We need to encourage and facilitate connection so we are not their only relationships and to reduce their feelings of isolation.
Try and build connections with friends and extended family into each day. It will give all of you a break from each other too.
Say thank you
Happiness experts have discovered the 2 secrets to happiness are actually very simple:
Noticing what makes you happy
Expressing gratitude for it
Have a set time each day (dinner timeworks well) to go around the table and acknowledge what you are grateful for. It will help put a smile on all your faces.
It will also help you realise that although the days may feel strange, there are still things to be happy about and life is still good.
Create a relaxation jar
Encourage your child to write lots of relaxation ideas on slips of paper and pop them in a jam jar they have decorated and labelled 'my relaxation jar.'
Their ideas can include a whole variety of things from baths to books, cloud watching, blowing bubbles, even stroking the cat.
When things are feeling tough for them encourage them to randomly pick an idea from their jar and put their relaxation plan into action. Because they have chosen it, rather than you, they are much more likely to do it.
Become an activist
When kids feel overwhelmed it is often because they feel powerless.
Kids are not powerless though, and there is a lot they CAN do.
Whilst they cannot stop the Coronavirus they CAN stick to the rules in place and they can play their part in reminding others to do the same.
Discuss with them how they can help. Could they:
Draw a poster urging people to stay safe by not meeting up with friends?
Share safety messages by reposting them on their social media?
Talk to their siblings/friends who may want to meet up about why they shouldn't?
Join you in clapping for and donating to the NHS (via text/online) with a little donation from their piggy bank?
When feeling overwhelmed by a problem, it can hugely help to feel part of the solution.
 We don't need to be the best teachers in the world (most of us aren't teachers after all.) Being supportive, emotionally connected parents is what's needed most right now.
Try these books to help kids manage their emotions and boost happiness at home: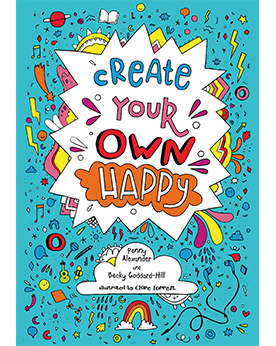 For ages 7+ 
For ages 12+ 
Be Happy Be You